Earlier this year I had the privilege of working on Sweet Genius 2, a competition show on the Food Network where host Ron Ben-Israel challenges master pastry chefs to create inspired desserts out of unconventional ingredients. I watch the show, and a lot of the creations are incredible. I'll never forget the episode where one lady had to make a dessert inspired by sand that contained coffee beans and bone marrow!  She painted a piece of bone with dark chocolate so it looked like driftwood and made 3 different flavored sands that were spilled over the wood. My description does not do it justice…it was brilliant.  I'm amazed by people that can dream up culinary creations in seconds. I can't even decide what to eat for breakfast in seconds.
The set from Season 1 was pulled out of storage and our goal for Season 2 was to transform it into a bright, lush, and whimsical wonderland while maintaining a sophisticated look that's a signature of host Chef Ron Ben-Israel. You should google him to see some of his cakes. They are 100 times more detailed and impressive in person.
Huge thanks to Keith, Erin, Grover, and Markel, Sarah, Leah, and Lauren for all of your help!
pin it!First things first, new paint. From gunmetal/brown to periwinkle/silver.
pin it!Go Grover, go!
pin it!Stripes remind me of French bakeries.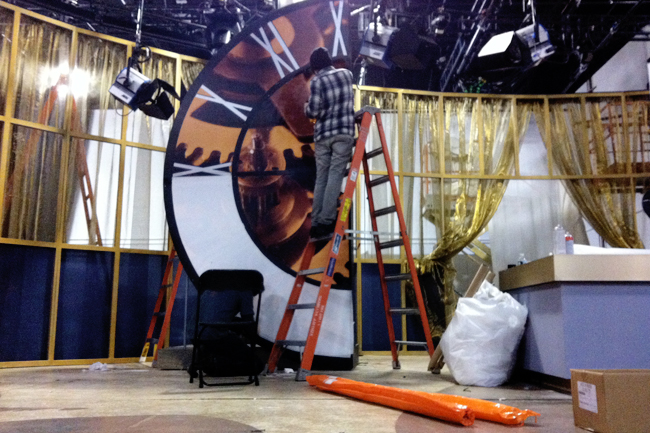 pin it!Keith "surgeon hands" Garvey.
CLICK HERE for more photos from this entry!