In high school we had this competition called "Spirit Hall" where a bunch of kids from each grade would pick a theme, rally as many students as possible in their grade, and decorate a long hallway to fit that theme. My junior year was the inaugural year of the competition and we chose an "Under the Sea" theme — we lit the hall with blue lights, wrote all the juniors' names on hand-cut paper fish, and made jellyfish out of iridescent cellophane strips. My senior year, we called our hall "Zoom In," and we made everything gigantic as if you were walking through the set of Honey, I Shrunk the Kids — giant grass, giant ants, giant sneaker laying in the giant yard, etc. My class won both years.
What did I learn from this experience? I learned that a) I love crafting b) I am competitive at team crafting and c) I especially love larger-than-life competitive team crafting.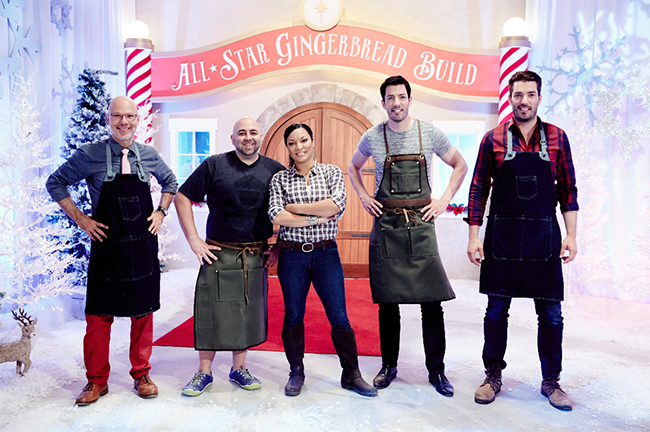 pin it!Fast forward 12 years and I'm sitting at my desk at the Halloween Baking Championship and my boss comes to me and says that he is putting together a team for a fun holiday show — 2 guys from HGTV partner up with 2 guys from Food Network, and they will compete in building/decorating life-sized gingerbread houses!!! !!! !!! As most of you know, I've worked on quite a few Food Network shows, and I also happen to be obsessed with HGTV, so this was pretty much my dream job. I know I say that about a lot of jobs, but for real this time. Giant miniature houses…yay!
They recruited Ron Ben-Israel and Jonathan Scott to go head-to-head against Duff Goldman and Drew Scott. I art directed Ron Ben-Israel's show Sweet Genius, and that guy's cakes are B-A-N-A-N-A-S. They are so incredibly delicate and detailed in person. He's basically cake decorating royalty. Duff is the host of Kids Baking Championship, which I also art direct, and he has an entire dessert empire and an army of talented young bakers that help him bring his crazy cakes to life. And I'm sure you all know and love the Property Brothers – Drew and Jonathan Scott.
Oh, and did I mentioned that these houses had to be completed in a mere 36 hours?!
pin it!We built the entire set at the Westside Pavilion mall in Los Angeles. The idea was to build the gingerbread houses inside this huge empty retail space so we could eventually invite mall patrons inside to vote for their favorite house.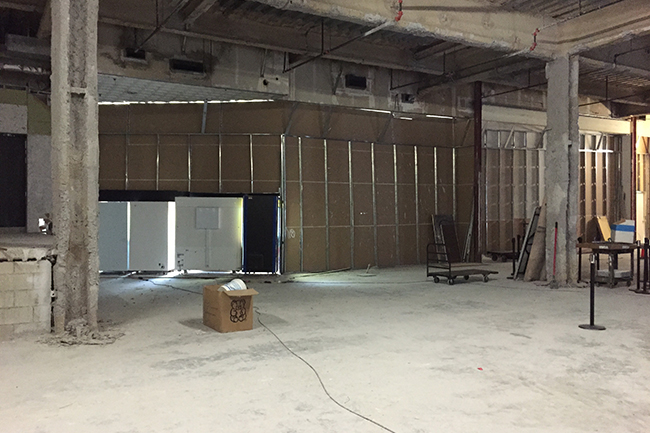 pin it!Only problem was that the retail space looked like this on the inside. It was completely raw — no doors, no walls, no lights. We only have a few days to make the space TV-ready so I called up my best and brightest and we started designing and building a winter wonderland.
pin it!We built windows and doors, glittered countless snowflakes, and brought in 12 ovens and an entire workshop full of tools sponsored by Sears.
pin it!Our amazing carpenter (affectionately known as Magic Michael) took my design for the entrance and brought it to life. He built those doors from scratch!
pin it!
pin it!
pin it!After the set was clean, colorful, and ready for camera, the 2 teams came in and started designing their dream gingerbread houses. The Red Team (Jonathan and Ron), wanted to make a chalet-style lodge, and the Green Team (Drew and Duff), opted for a curvy, Dutch cottage.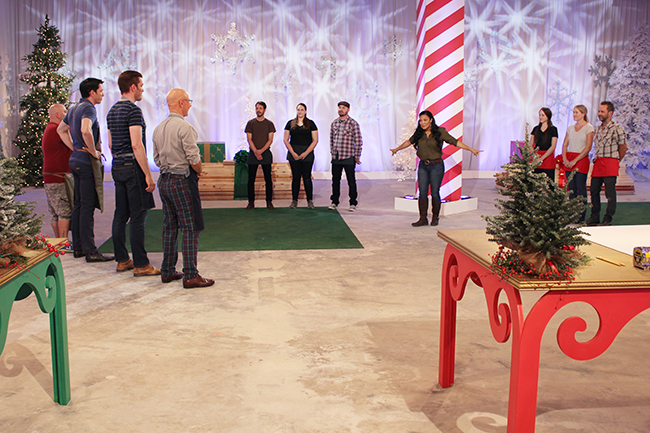 pin it!Both teams were given 3 "elves" to help them build and decorate. Shoutout to my art team — Michael, Emmett, Amber and Elizabeth. You guys look adorable in your mini-aprons :)
pin it!The first walls of the Red Team house go up.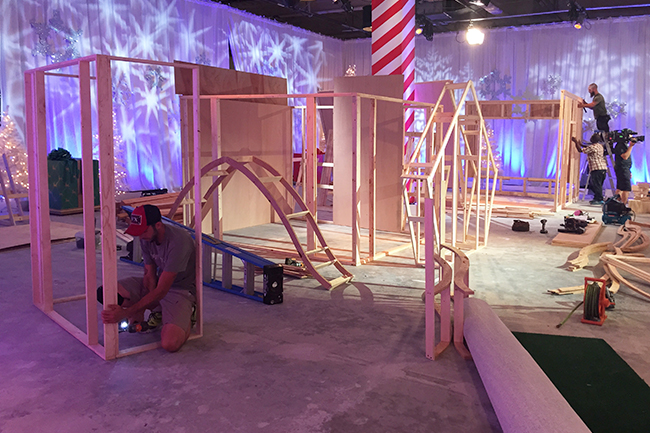 pin it!Chaos at 3am.
pin it!Jonathan works on planters for the chalet while Drew assembles a picket fence for the cottage.
pin it!After the houses were framed and skinned with wood, we began "gluing" our gingerbread tiles on with royal icing. We ordered over 10,000 bricks of gingerbread, but even that wasn't enough! Thankfully we had 12 ovens to bake even more.
pin it!
It may not look like that much candy from here, but trust me, we had hundreds of lbs of candy for the guys to choose from. By the time we were done with the houses, I vowed never to eat candy again. That only lasted about a day.
pin it!Candy brainstorming for the Dutch door on the cottage.
pin it!
pin it!
It looks like fun and games, but  these houses were a TON of work and we were all actually sleep-deprived and delirious by the end of it.
pin it!Duff had his team make this insanely perfect reindeer out of fondant as an final touch to his cottage.
pin it!By the time we completed both houses, mall patrons started lining up to meet the cast and to see the finished houses.
pin it!Behold! The Green Team's cottage complete with a marshmallow chimney, chocolate chip covered Dutch door, and a fondant covered reindeer.
pin it!
pin it!
pin it!
pin it!
pin it!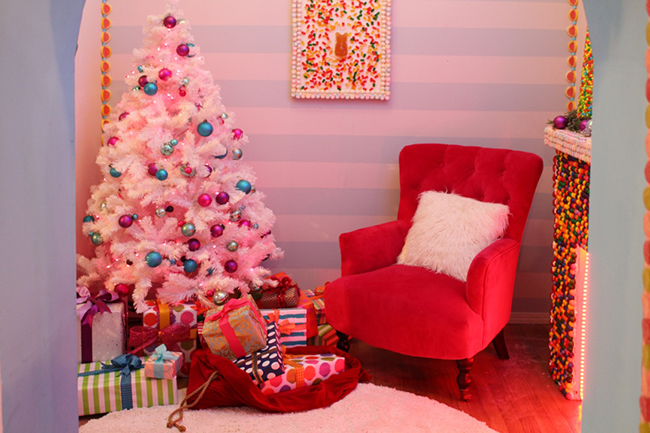 pin it!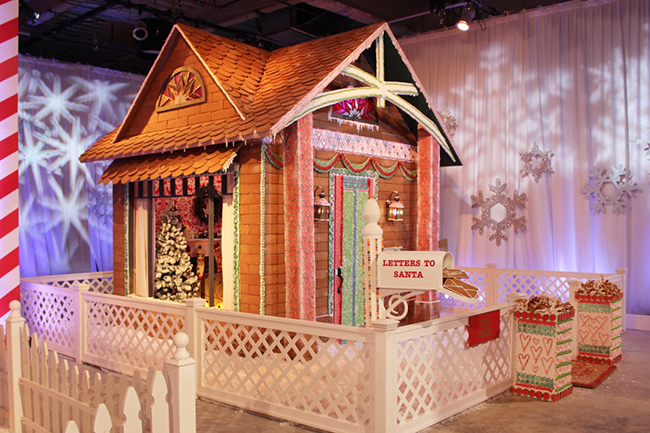 pin it!The Red Team's chalet!
pin it!The stained glass window was made out of colored sugar that we melted and poured into the frame!
pin it!
pin it!We let the mall patrons in, and each person grabbed a gingerbread man to cast their vote for their favorite house.
pin it!
pin it!
pin it!
pin it!In the end, the Green Team cottage with the reindeer head won. The losers had to don Santa and Elf costumes and walk around the mall.
pin it!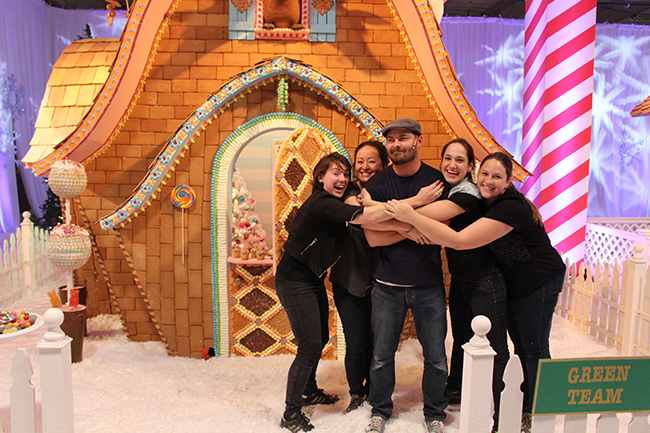 pin it!Even though this was one of the hardest projects I've ever worked on, we had a blast and I can't wait till next year so we can do it again!
Massive thanks to Erin, Michael, Emmett, Rick, George, Aubrey, Nick, Giles, Amber, Elizabeth, Renata, and Lynsey. A thousand hugs for Morgan, Beryl, Dave, Alex, Amy, and co. And high 5's to Hillary, Whitt, Steve, Larry, and Dustin. XXOO
pin it!