I am obsessed with HGTV. I could literally watch it all day.  It's a good thing I don't have a TV anymore, because if I did, I would not be blogging, I would be watching HGTV. I love it more than Breaking Bad. I love it more than the first season of CSI. I love it more than animal documentaries. I don't watch Orange is the New Black, but if I did, I'm sure I'd flip the channel in a heartbeat if I knew Design on a Dime was on.
Don't judge my lifestyle.
Sometime in April, I received a call that basically fulfilled one of my life-long dreams. My dear friend Sue was producing an HGTV show about home makeovers using only furniture from yard sales and flea markets and she wanted to know if I was interested.  I asked myself, "Jen, do you really want to spend the entire summer in a warehouse sorting through filthy used furniture, drowning in fabric swatches, and inhaling noxious paint fumes?" Uh…YEAH!
pin it!The show is new, the brainchild of Good Morning America co-host Lara Spencer. She is a design aficionado and a yard sale-ing guru. Her passion for furniture hunting is unwavering and unsurpassed. She wakes up at 3:45am for Good Morning America, hosts Flea Market Flip, writes books, decorates homes, has 2 kids, 3 dogs, and still manages to go to yard sales ALL THE TIME.  She even wrote a book about it.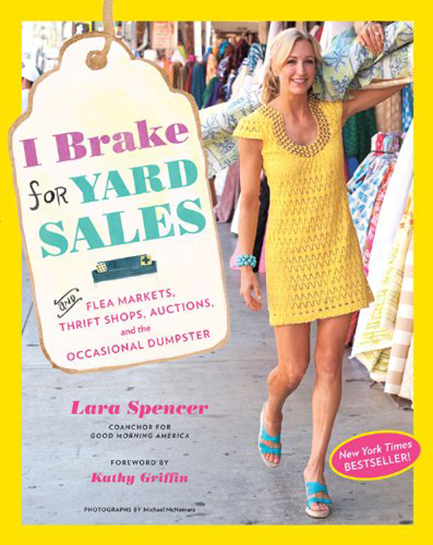 pin it!
Back in April, we found the perfect workshop to base our operations. It was large enough to house the set of both Flea Market Flip and I Brake for Yard Sales. There was a paint booth, a loading dock, plenty of storage, and proximity to excellent pizza. Only problem was that it looked like this:
pin it!Since Lara is ridiculously busy with her 5 jobs, I came on board to help spruce up the place.  I couldn't have done it without my main squeeze, Aaron Montgomery who happens to be a designer/builder of awesome furniture.
pin it!
pin it!
pin it!He built the metal table, shelves, and desk from scratch. All of the furniture turned out mucho sexy, and I hope to have everything in this office replicated in my future warehouse/design studio. It's gonna be glorious. Everything black and grey and greige and white and wood because I'm allergic to color.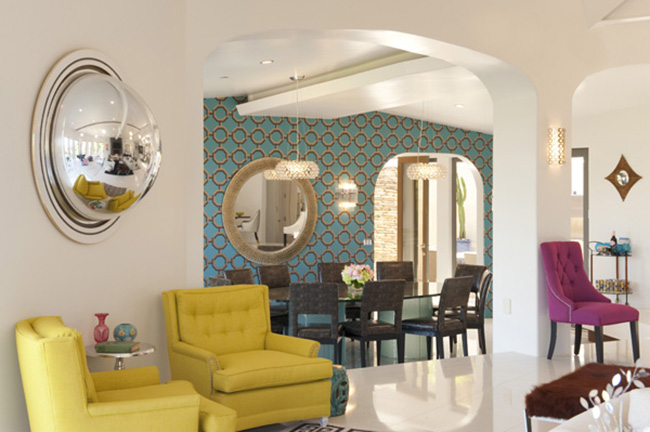 pin it!You know who's NOT allergic to color? Lara Spencer. Even though we had functional, industrial furniture that fit the warehouse environment, we wanted the room to feel chic, fun, and bright, which would reflect Lara's style. (She designed the room above.)
pin it!We painted the grimy walls bright white and the door citron yellow.
pin it!The furniture was designed to fit the space exactly.
pin it!
A wall of flats separates the I Brake for Yard Sales studio from the Flea Market Flip workshop.
pin it!We brought in piles of fabric books, antique frames, design magazines, added a sprinkle of Jonathan Adler accessories and voila! A preppy/industrial design office was born. The crazy orange credenza was a team effort. It's actually made of 3 IKEA kitchen wall cabinets and we added chunky wall moulding around each door. I used brass doorknockers as handles.
pin it!
pin it!The top of the desk is actually an IKEA kitchen countertop.  I've always liked the taupe color of this laminate top and the faux wood edge is modern and interesting.  It never seemed like a material that I would want in a kitchen, but I think it works perfectly as a work surface.  The slab came exactly that length and it happened to fit perfectly against that wall. Destiny? I think so. Also, can we take a moment to admire the white lacquered chairs? SWOON. I got these at Build it Green (which is basically a donation-based junk yard) for $15 each!!!  They didn't have seats at the time, but who cares! Nothing that a little plywood, foam, and fabric couldn't fix.
pin it!Alex built the Greek key screen which is actually covering a massive gaggle of electrical cords and a giant circuit breaker.
pin it!
It just so happens that the annual Jonathan Adler warehouse sale was the week of our warehouse makeover. Christine and I waited for 90 minutes in the pouring rain to snag this golden turtle dove.
pin it!Left to right: Alex Gurrero, Sam Knapp of Tiger Lily's, Lara Spencer, me, Cija Johnson.
Millions of thanks to Christine L., David D., Jay A., and James D. for helping pull the studio together in record time. Lara, thanks for including me on your furniture-saving adventure.  Can't wait to do it again!
And Sue, you are my hero!
We designed and decorated 8 rooms, so more blog posts to come….
Watch I Brake for Yard Sales Friday evenings at 9pm on HGTV.