I'm one of those people that shops online, then goes to the store to check out an item, then I try to find it for less on amazon/craigslist/ebay—a tactic that is successful 85% of the time. I usually devote way too much time considering all options before pulling the trigger on a purchase. I've been described by many as "extremely picky" and "super frugal."  Needless to say, I am NOT am impulse buyer.
Last time Aaron and I were in Los Angeles, we went to the Rose Bowl flea market for the first time. We got there right as it opened and it was already crowded. Within an hour, it was jam packed with aggressive hunters like myself. I intended to  window shop only—we lived 3,000 miles away, so the idea of schlepping anything back home seemed like too much of a hassle. I was also skeptical that I'd find anything that was truly a bargain, because there was so much hype surrounding that flea market so surely, their prices would reflect that.
And then I saw a vendor selling the most beautiful rugs ever. From runners to rugs to poufs, I wanted to buy EVERYTHING (which is unusual for me.) I knew that an 8 x 10 kilim rug with a nice modern pattern is almost always $500+, I almost didn't bother asking for the price because I didn't anticipate dropping that kind of money on something I didn't really need. When the vendor told me that he was selling the beauty below for $180 I tried to contain my excitement and I pulled Aaron to the side. "That's a really good deal… OMG. I feel like I should get it. Should I get it? It could look so great in the room. I love it. Ugh. It's so great." He nodded in agreement. So I scampered to the ATM and made it mine. When I got home, I noticed a price tag pinned to the bottom that said $2200.  I KNEW IT! This vendor probably sells the same rugs at boutiques for 10x the price.
pin it!
Fast forward a few months… Design*Sponge recently asked their readers to tag pictures of their fabulous rugs with #dsnicerug. For the first time in my life, I owned a nice rug! As a recent Instagram junkie, I felt the need to show off my wooly friend. To my surprise, they re-grammed my picture and posted it on their website! Soon after, Amy, an editor at D*S emailed me to ask if she could interview me for the blog. Then this happened!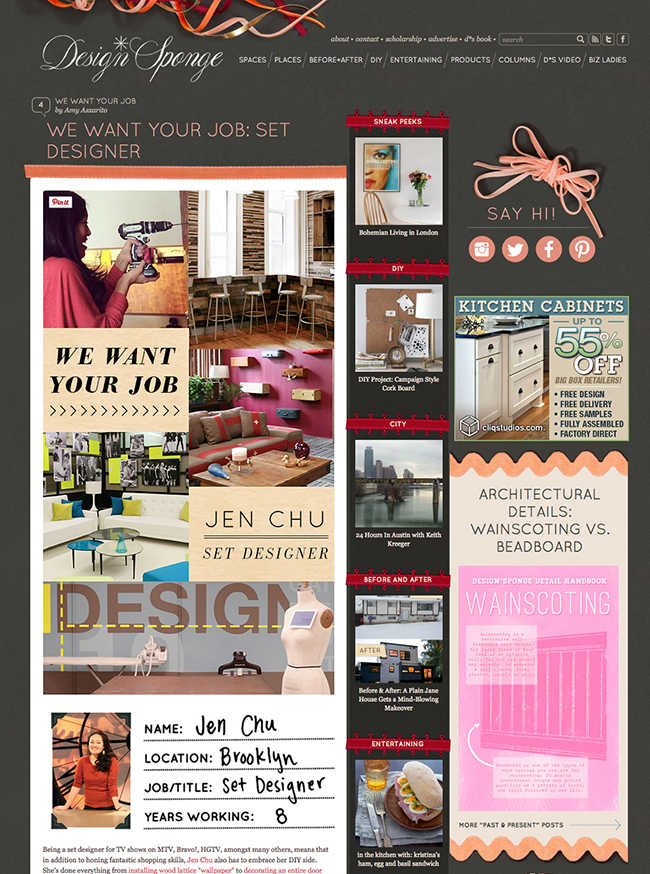 pin it!
Anyway, bottom line is that I never thought making an impulse rug purchase would lead to Instagram networking, which would lead to press opportunities! Sometimes I wonder if I'm spending an unreasonably amount of time and money tweaking my apartment, so when stuff like this happens, it makes me feel like I should just keep doing what I love and one way or another it will pay off.