This blog post is about Los Angeles, which I consider my second city. But let's talk about Brooklyn for just a minute.
There is one thing that unites all Brooklynites. Whether you grew up here or moved here later in life, at some point during your residency in this beautiful borough, one particular thought has undoubtedly crossed your mind—wouldn't it be grand to buy a brownstone with 3 units so I can live for cheap in one unit while renting out the other two?!
We've all heard the stories. Everyone knows at least one person that had the foresight to buy a building 23 years ago when the streets were mean. Unfortunately, 23 years ago, I was 7 so that never panned out for me, but there isn't a day that goes by that I don't long for one of these beauties:
pin it!
I mean… DROOL. What's not to love? I've been saving up for roughly 10 years now. With what I have saved so far, I would just need another $80,000 cash to fall from the sky, and I'd be good to go! And maybe another $65,000 for renovations. Hmmm…
Since I'm impatient and happen to be DYING for a new project to sink my teeth into, I decided to get the next best thing:
pin it!
I know… you can say it. She's an ugly baby. I mean, she's cute to me, because I'm going to nurture her and love her forever, but you don't have to lie to me and tell me that she's cute. I think of her as a "late bloomer" who is going through an awkward stage right now, but one day she'll be a swan and she'll wind up on the Bachelor. Just wait and see.
A bit of backstory: I went to school in Southern California, so all of my friends from college as well as a handful of my childhood mates all live in Los Angeles. Show business is my bread and butter, so more than half of my colleagues are in LA as well. I find myself out there several times a year for work and leisure, so I decided to find a dumpy little place to fix up and call my own.
By now, most of the folks reading my blog know I love a tiny space. My mini room in Brooklyn meant the world to me, and the process of renovating it jump-started my career and the finished product received some favorable press. That was 7 years ago (omg, I'm old) and I'm starting to feel like one of those artists who's running on the the fumes of their one-hit-wonder. Ive worked on plenty of fun projects for work, but my personal space hasn't changed in a few years and it's slowly sedating my spirit. It's time to get back into the studio.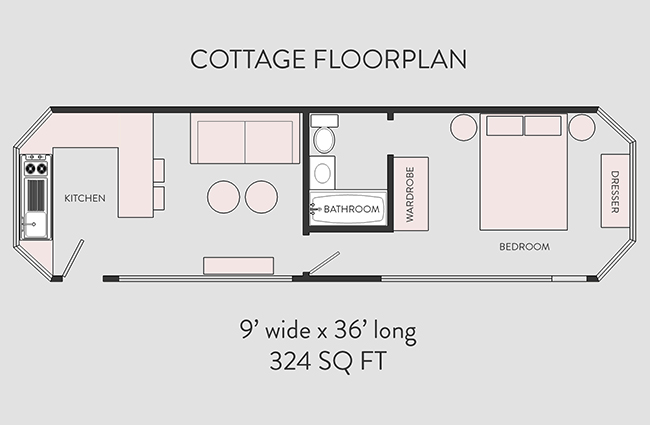 pin it!This 1940s structure is a 1 bedroom/1 bathroom back house behind a bungalow from 1908. I'll get into the details of how it relates to the rest of the property later, but for now, here's a floor plan so you can decipher the "before" photos. Doesn't it look like an old school NYC subway car?
pin it!As soon as you enter, you walk into the kitchen. I plan on overhauling it, but I'll leave the sink and stove in the same place.
pin it!This is the living room window looking toward the bedroom.
pin it!There's a full bathroom but no closet. I'm going to build or buy a tall wardrobe to put against this wall.
pin it!I'm actually charmed by these crusty hand-made windows. The exposed/stained drywall and wood paneling…not so much.
pin it!Busted/missing windows. General filth and grime everywhere.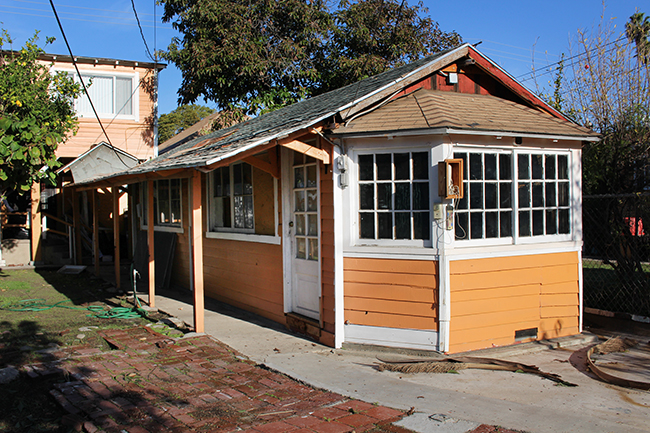 pin it!
I haven't even touched the cottage yet, but I've invested approximately 6,798 hours into dreaming about how glorious it will be. I break ground this weekend, and I have to tackle the boring dirty work first. (Rip up linoleum, replace sloping subfloor, rip off wood paneling, patch drywall, gut kitchen, clean, clean, and clean…) It'll probably be a few weeks before I start on the fun stuff, but for now, this is what I'm thinkin':
pin it!It's a lot of scandinavian/modern with a sprinkle of industrial/Moorish. I want to be really good about documenting all the major projects so I can share the progress with you. I haven't been this pumped about a space in a long time. Wish me luck!