When I moved into this apartment, I went into a cleaning/fixing/decorating frenzy and set the place up as fast as I could with what I had. I hung my own photos, drawings, and paintings all over the house. I always knew that they were a temporary solution, but after a while I stopped noticing them. 5 years later, I got a second wind and have been itching to update the decor in my living room.
A lot of people have trouble choosing art and I can absolutely see why. You have to consider color, shape, size, price, subject matter, then there's the hassle of finding the right mat and frame. Then you have to hang it and you must decide how high/low, how heavy, how many, how far apart, etc. Then on top of that, since I'm an artist choosing art, I'm extra picky and a little self conscious. Does it look too much like my own work? Is it current? Is it too hip? Will I grow tired of it? What is art anyway? What is the meaning of life?!
When I'm decorating a set and I need art in a pinch I just buy frames from big box stores, then have my travel photos (mostly of flowers and architecture) printed at Fedex Office and BAM! Instant art. Kinda boring, but fine for TV. I really don't want to go that route for my own home. Plus I'm bored to tears of my photography because I keep using it for work.
My ginormous drawing of Queen Frida was hanging in my living room and she was WAY too big for that wall. Because I had no where else to hang her, she lived there for years.  I finally did something about it and wrapped her up and put her in my dingy hallway landing. I feel a little guilty, but she'll be okay.
I started poking around online and liked a lot of work at 20×200, Mammoth and Company, and Society6, the latter being the most affordable by far. Some of it is too trendy and cutesy, but some of it is fantastic.  I must have perused 10,000 prints, bookmarked 50 of my faves, then narrowed it down to my top 7. Most of the pieces come in small, medium, and large sizes, so fired up Photoshop and played with some different configurations.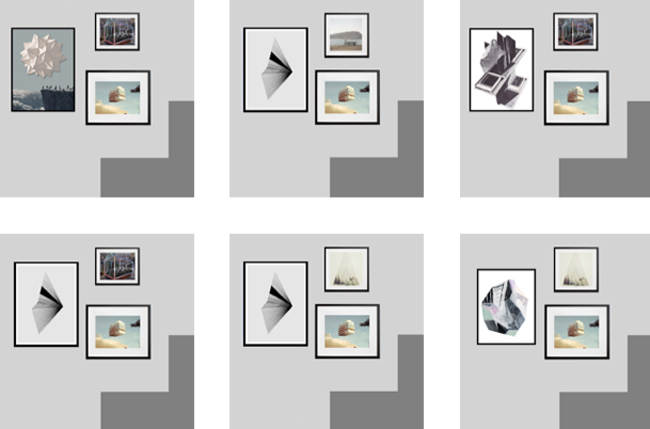 pin it!6 different configurations that I was contemplating. The dark grey L represents the side view of my sofa.
pin it!This is the configuration I settled on. The pieces are Half 2 by Rui Ribiero, in A cabin in the woods by Hallwood, No Way Home by Zafa Zubiria. They were super affordable at $93.36 for all 3! Shipping was free, and they took about 5 days to get to me.
I bought my frames at americanframe.com. Their interface is simple and intuitive, and their prices are really reasonable.  I ordered 3 metal frames. The big one is matte black, extra deep and MUCHO SEXY. I think it's going to be my go-to frame from now on. The other two are skinnier and more shallow. I like the gray one, but the white square one is not my favorite. The shade of white is too cold. I thought about sending it back, then decided that when the room is fully pulled together, it won't really matter. I kind of regret not paying extra for the non-reflective acrylic, but I already took the protective film off, so I guess I'll keep what I have for now.
pin it!
pin it!
pin it!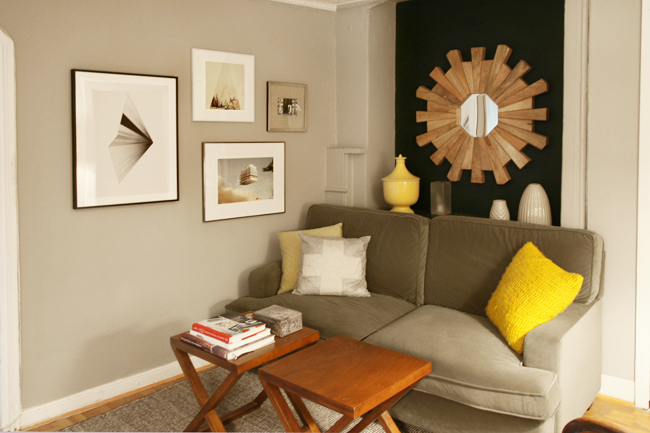 pin it!
The 2 prints in the middle were printed on a super smooth paper using a process that looks like laser printing. The ink is a little shiny and it you look closely, you can see a little bit of inconsistency in the color. The big black and white looks AMAZING. It's on a paper with nicer texture and is printed on an ink jet and is so clear it almost looks like an original. I guess you get what you pay for. I threw that tiny frame in at the last minute. I doesn't really match, but I kind of like that about it. The photograph was ripped out of a photography book about Israel.
Oh, I got a new rug! It's the perfect size, really soft under foot,  and makes the room 10x more inviting. It's plain but not too plain. And it was on sale! Thumbs up, highly recommend.
As usual, it took me forever to decide which pieces to buy because I liked so many of them. Here are some other great pieces that I found over the course of a 3 day online art binge.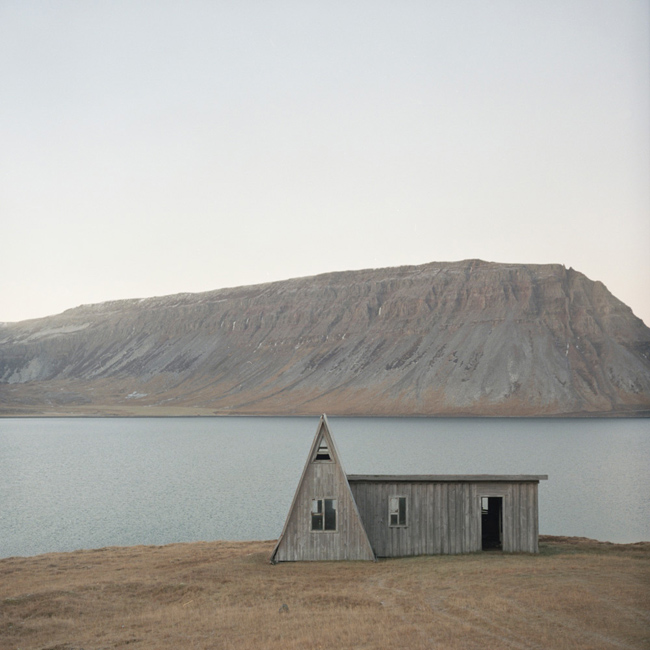 pin it!Abandoned Beauty by Tom Kondrat
pin it!Diagonal Mar by Clemens Behr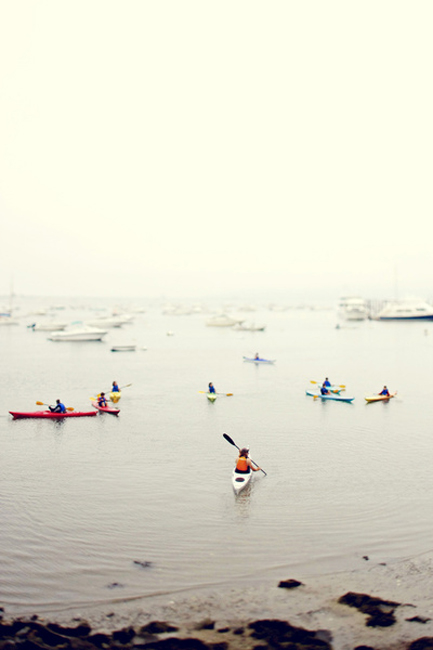 pin it!
Kayak by Sarah Montour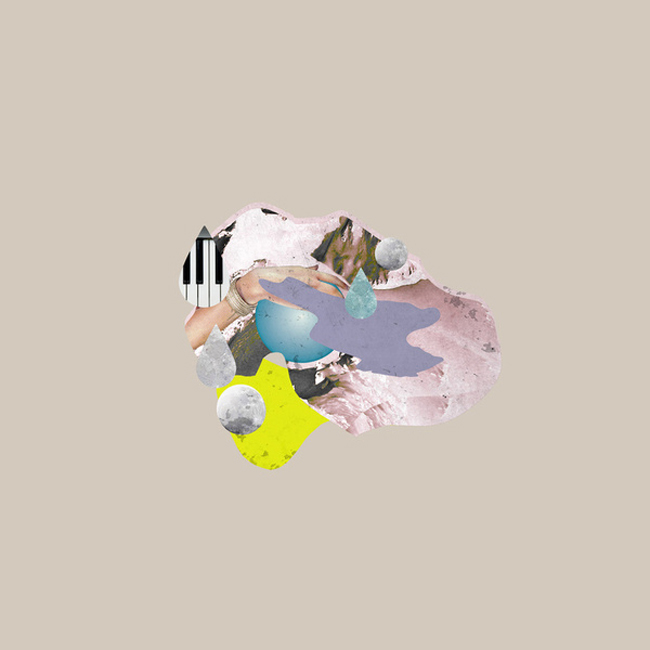 pin it!Heaven by Kathy Bouthier
pin it!False Memory by Ricky Allman
pin it!
Triumph of the Spectable by Euginia Loli
pin it!
Landscape Painting 2 by Russell Leng
pin it!
Promise by Heather Goodwind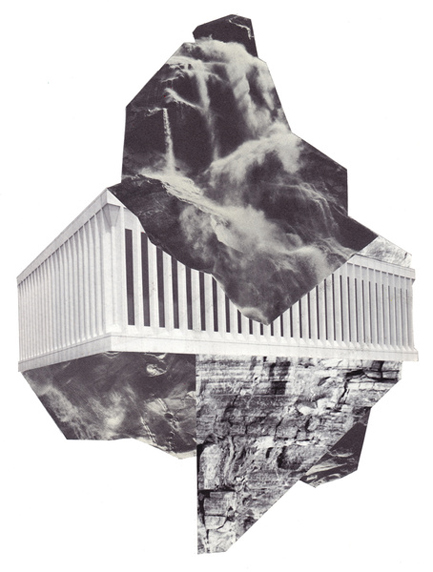 pin it!
Monolith_05 by Jesse Draxler
pin it!Abyss of the Disheartened by Heather Landis
pin it!Emergency Door by Rachel Bellinsky
pin it! Lookout by Joy StClaire
pin it!
Pretty Problems One by Luke Ramsey
pin it!
Truest thing we'd ever known by Cardboardcities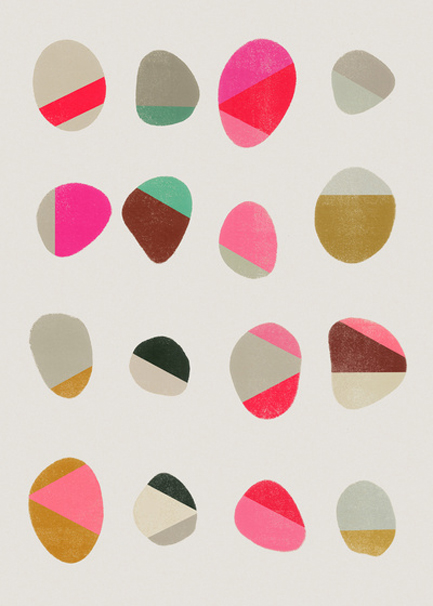 pin it!
Painted Pebbles1 by Garima Dhawan
pin it!
Maps by Tina Crespo