Long story short…when I first moved to NYC, I was roommates with an awesome guy, Josh, living in an awesome loft in Brooklyn. Soon after, Josh took off on a world-wide adventure growing a company called InTheMo with his long time friend and colleague. Fast forward 5 years, and InTheMo now has offices in several cities, and the New York team has moved out of Josh's living room into a beautiful 3500 sq ft loft near Union Square. What does every interactive digital media company need? A 30 foot bar. That's where I come in.
I definitely couldn't do it alone, so my boyfriend Aaron came on board to tackle this beast with me. We started by collecting inspiration images.  Even though we were building a bar in a very tech-savvy office, we wanted to give it a rustic look to contrast that. Most of our favorite inspiration rooms incorporated reclaimed materials and industrial or vintage fixtures, which was a great direction to go in for a big bar on a budget.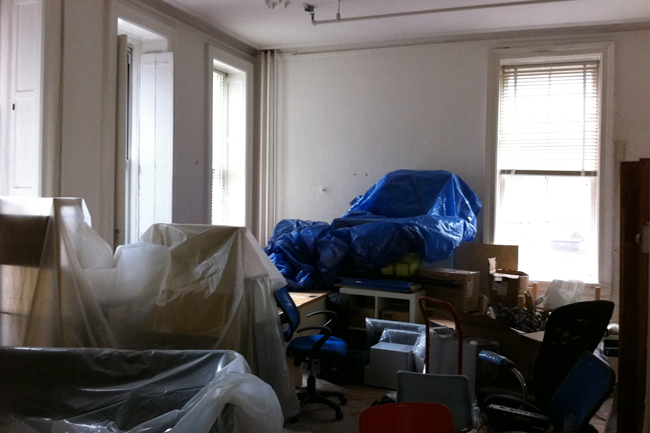 pin it!As a company fueled by young creatives, it was important to have a place for colleagues, friends, and clients to come together over a beer or an espresso to discuss exciting projects and potential collaborations. The goal was for this office to eventually become a great place to screen films, host music performances, and of course party. This is a pic of the back corner of the loft, future home of the bar.
pin it!Pondering proportions. Mapping out the footprint with masking tape.
pin it!
pin it!
pin it!We bought the reclaimed wood from a guy we found on Craigslist.  We had barely enough to wrap around the bar, so we cut it into smaller pieces to minimize waste and stacked the planks in a contemporary pattern.
pin it!
pin it!
pin it!We stained some slightly moldy wood lathe 15 different colors which gave it the perfect rustic patina. We staggered the pieces and nailed them to the wall surrounding the custom liquor shelf and all along the window wall.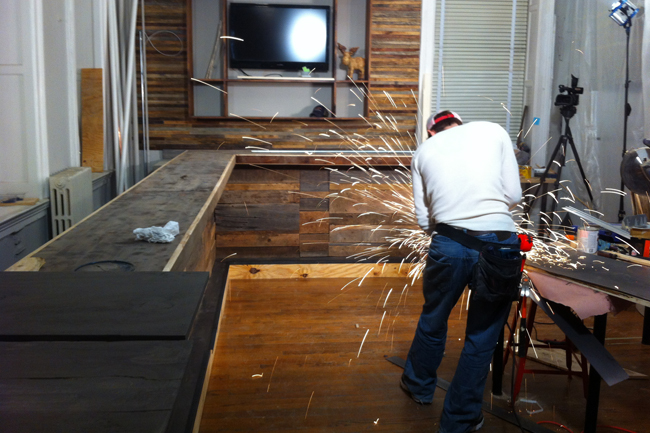 pin it!Cutting sheets of steel for the foot rest, one of my favorite details. I have to give Aaron props for doing most of the hard core building all by himself. He's super talented. A bar of this size is a beast of a job for 2 people in a time crunch. It was literally just the two of us working on this project every night after the office folk went home, like DIY vampires. At least now I can cross "build a bar" off my design bucket list!
pin it!
pin it!
pin it!
pin it!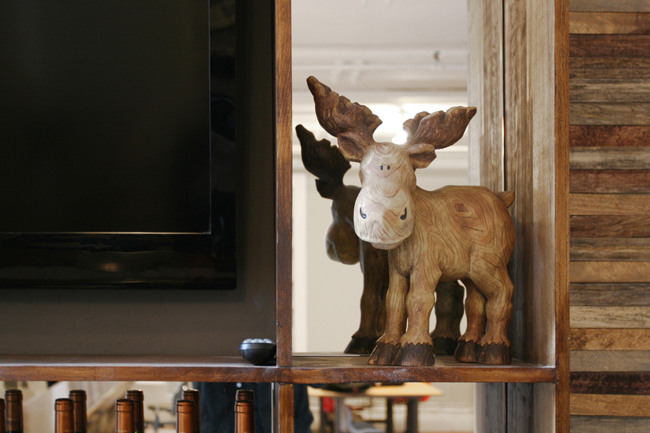 pin it!That's Mo the moose.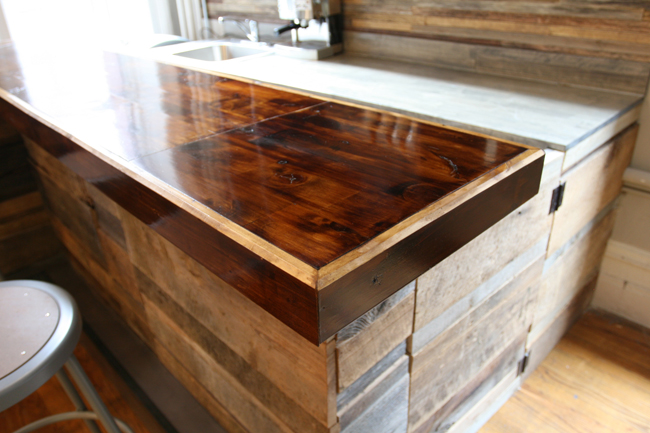 pin it!
pin it!
pin it!
pin it!InTheMo provides production/video/web services all over the world. Learn more about them here!