Last year I blogged about my parents' huge house renovation where they basically ripped the entire front of the house off and expanded forward. We built a dream kitchen for my mom, and while we were at it, we knocked down two tiny bathrooms and turned them into one big bathroom. I know it's unusual to reduce the number of rooms in a house, but they don't plan on moving and will probably expand again in a couple years and build out a new master suite.
My mom is super hip and wanted a more contemporary look for this bathroom. I looked up tons of companies that made simple, modern vanities and bathroom fixtures but few of them were affordable and none of them had a quick turnaround time. Since both bathrooms were demolished at the same time, my parents were eager to complete the renovation quickly so they would have a usable bathroom. (They were living in an RV parked in the side yard during the entire duration of the renovation.) We ended up going with an IKEA vanity and matching cabinets. Aside from the sink being a little too shallow, we're pretty happy with it. Not sure why it took me so long to post the pics, but here they are!
pin it!I love natural light in bathrooms. In all rooms, actually.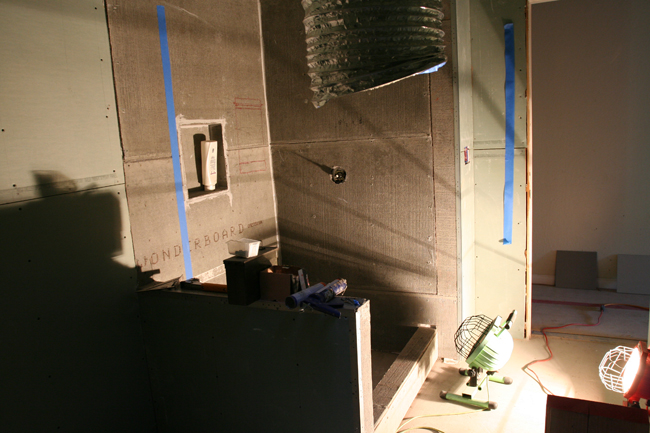 pin it!
pin it!We had some drama with the grout. I initially had chosen a warm gray and as soon as we started putting it on, I had a gut feeling that it wasn't the right color. I read on the label that it would dry lighter, so my mom and I proceeded with grouting the entire shower. We walked away then took another look a few hours later, and to our dismay, the grout was still a nasty mud color, which ruined the look of the whole room. We decided it would be worth it to re-grout so I went to Home Depot and bought all kinds of scrapers and pointy things and we spent 5 hours de-grouting the entire shower. Fortunately, the new lighter gray grout made all the difference.
pin it!The nice man who installed our shower glass for us. It's a fascinating process to watch. He told me he used to specialize in tile work, but inhaling ceramic dust was taking a toll on his health, so he started a glass company instead.
pin it!The vanity is from from IKEA and is called Godmorgon (which means good morning in Sweedish!) The sconce is from Restoration Hardware (discontinued). The mosaic tile on the back splash is from Home Depot.
pin it!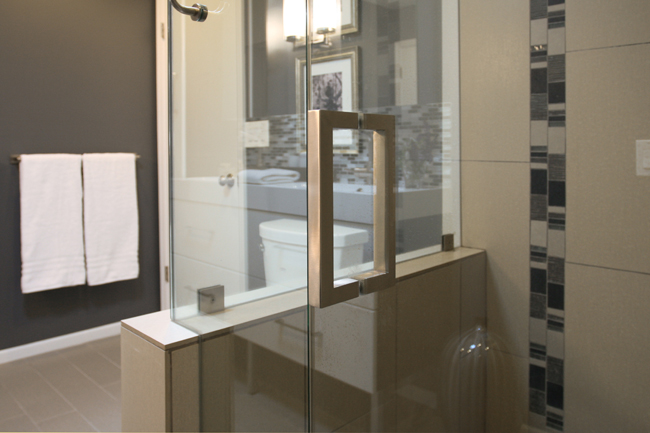 pin it!
pin it!   I painted this room myself. I knew that a less-than-perfect paint job would be really noticeable with the clean lines and super smooth drywall. I cut razor sharp edges with my fancy brush and slowly rolled on 3 coats of semi-gloss paint with a super short nap roller, making sure not to leave any paint lines. I can't remember what this color is called, but next time I go home, I'll see if we still have the can. I know it's Benjamin Moore.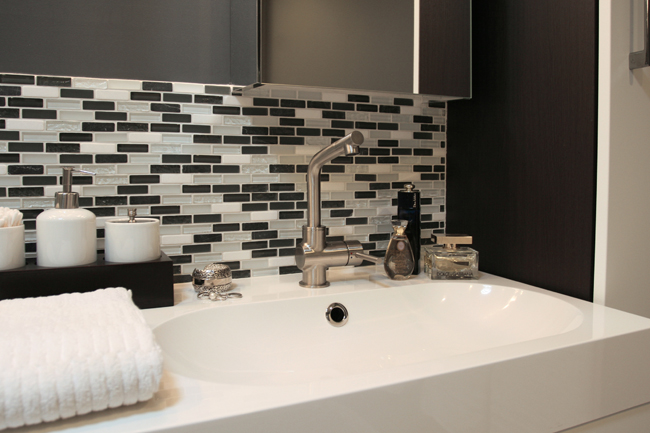 pin it!