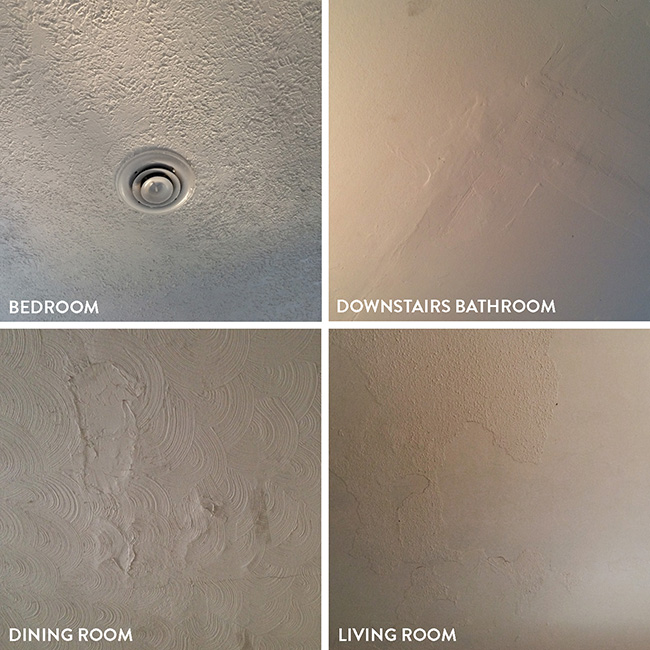 pin it!
I mentioned in my last post that the ceilings in my Richmond house had issues. Seventy five percent of the ceilings had cracks that were covered with terrible swirly plaster designs or "popcorn" texture. Unfortunately, if there's one thing in the design/build realm that i HATE doing, it's anything that requires holding my arms over my head for extended periods of time. That includes installing crown moulding, replacing heavy/awkward light fixtures, and most of all—patching/sanding ceilings. Right off the bat I budgeted $5k to have someone else come in an fix them for me.
pin it!
The selling agent didn't include this picture in the listing…wonder why!? When I first saw this photo I was concerned that this damage was caused by a leaking roof which would have meant $10k+ out the window. My inspector figured out that it was actually caused by an improperly insulated vent that was causing condensation/dripping. My agent asked the seller to fix the hole before I bought the house, which was good but still not great. They just cut a patch piece and put a bunch of texture on it. The rest of the house was a mish-mosh of ugly ceilings of all types. I'm certain that all of these were just a band-aid to cover up cracked plaster.
I've met a good number of contractors over the years, and I find that many of them are reluctant to do drywall. It's a skill that sounds easy on paper, but when someone doesn't have passion or finesse for it, it takes forever and it winds up being a huge mess. Fortunately, there is a small percentage of dudes just LOVE doing drywall, and that's the kind of guy you want doing your ceilings.  If this is something you ever plan on having done in your house, don't hire a random person who says they "can" do drywall. Hire someone who ONLY does drywall.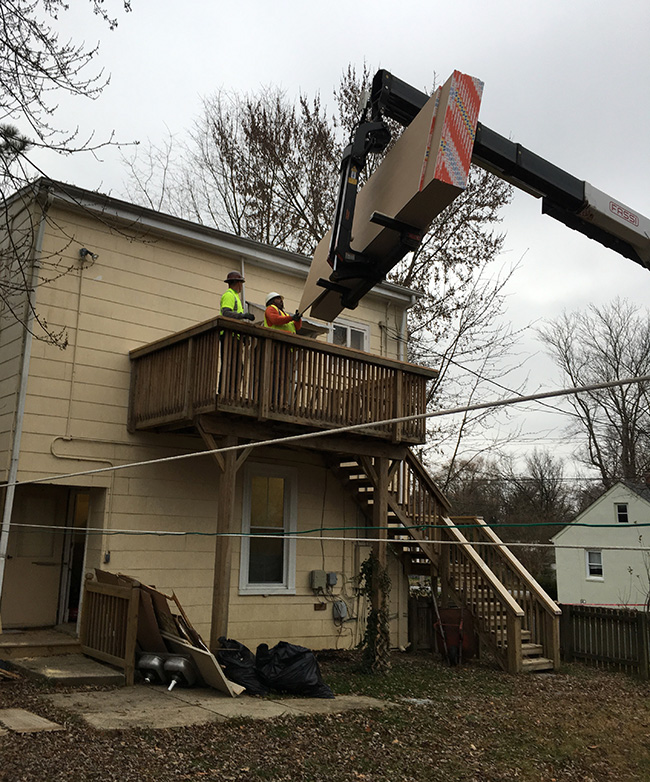 pin it!
I hired a guy, Oscar to hang drywall over the existing ceilings. I figured with 10′ ceilings I wouldn't miss the 3/8″ that I was losing. Oscar ordered 12′ boards for the new ceilings. We brought the ones for the ground level through the front door, and the guys used a giant crane to get the rest of the boards onto the 2nd story.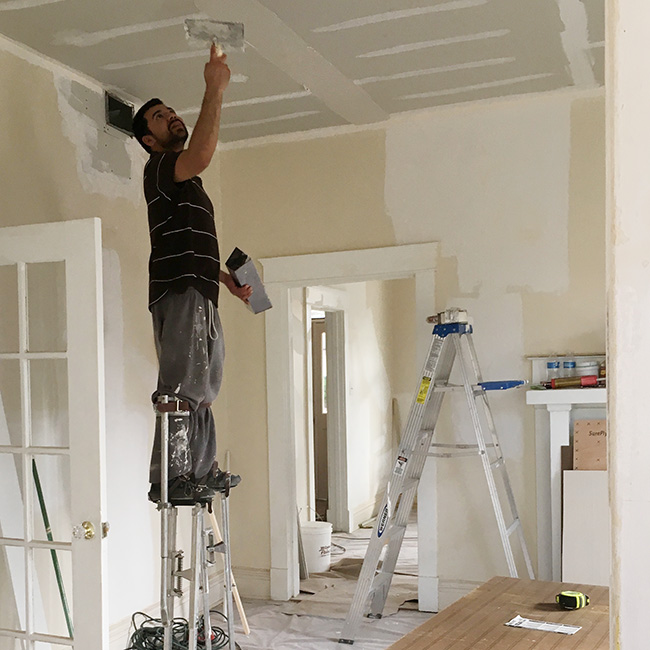 pin it!
Man… I've said it once and I'll say it again. I REALLY dislike doing any kind of work that requires my arms over my head for hours. I don't know how these guys do it. I'm pretty tough, but patching ceilings is not for me. I love watching people apply joint compound, though. Its like watching someone ice a cake — so soothing!
pin it!
In addition to patching the ceilings, we also patched the walls. The old plaster had cracked in tons of places, which is normal, but kind of ugly. This wall in the dining room was the worst. It was so bad that we skim coated the entire wall. That soft gray color is NOT paint. It's wall-to-wall joint compound. Oscar said that we used more drywall mud in this house than he usually uses in 10 new homes. Whoops!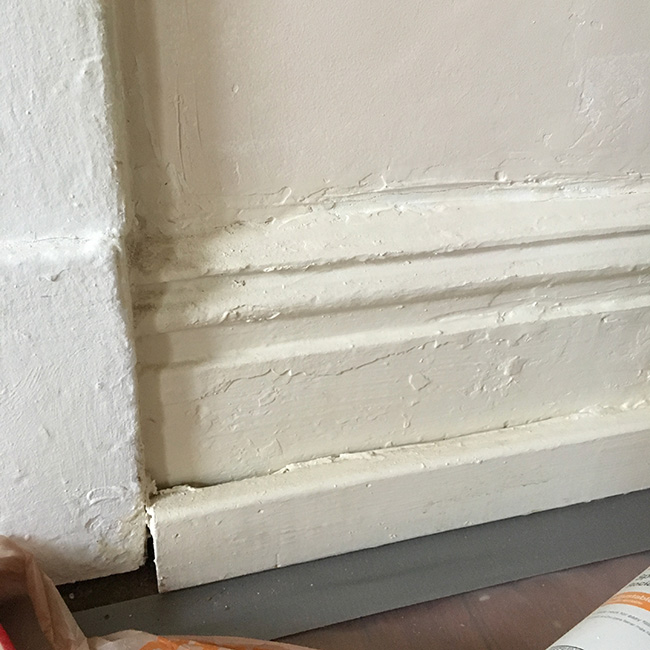 pin it!
I talk a lot about the "invisible work" that goes into renovating an old space. It's all the time that you spend repairing cracked/chipped/lumpy walls and trim. It's kind of like plastic surgery for a house because it can literally make the house look decades younger if you do it right.  I admit I have a bit of OCD when it comes to this kind of work and it's not unusual for me to do one round of patching/sanding/painting, then go over it all over again with a 2nd, 3rd or 4th round. It's super time consuming, but it just feels so great when it's done. In this house, I spent a good 2 weeks straight on patching and sanding alone.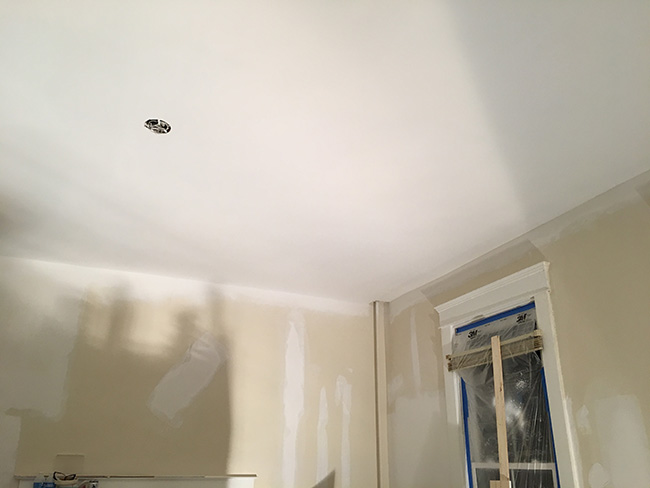 pin it!
But in the end, I was thrilled with the new ceilings. Oscar did an awesome job, and they make the house look about 1000x more polished and welcoming. This is the dining room.
pin it!
Kitchen ceiling before
pin it!
Kitchen ceiling after with a little sneak peak of the range hood I built. I'm putting together a big blog post about kitchen for next week. In case you forgot what it looked like before, here's a pic to refresh your memory: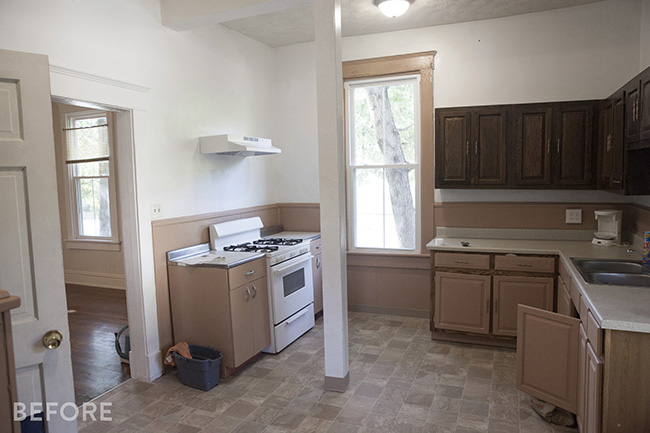 pin it!
More on that later. Have a great weekend everyone!